BASS TACTIX Discount 40%
Short Sleeve S-XL $79 $47.00
Long Sleeve S-XL $89.00 $53.00
Hooded Jersey S-XL $89.00 $53.00
Poly/Fleece Hoodie S-XL $97.00 $58.00
Add $5 for 2XL, $10 for 3XL, $15 for 4XL
Backgrounds
Below is the Bass Tactix "Hook" background You can use this background or any other E3 Background. There is a link in the footer of this page to all our backgrounds. You can change colors to match your team colors on most backgrounds.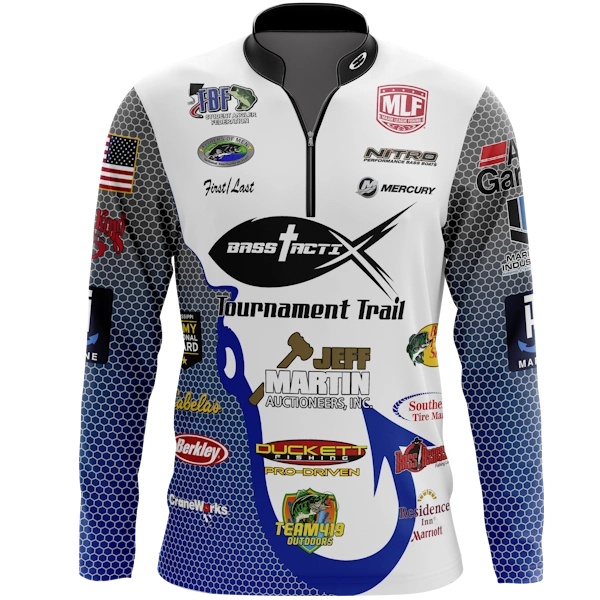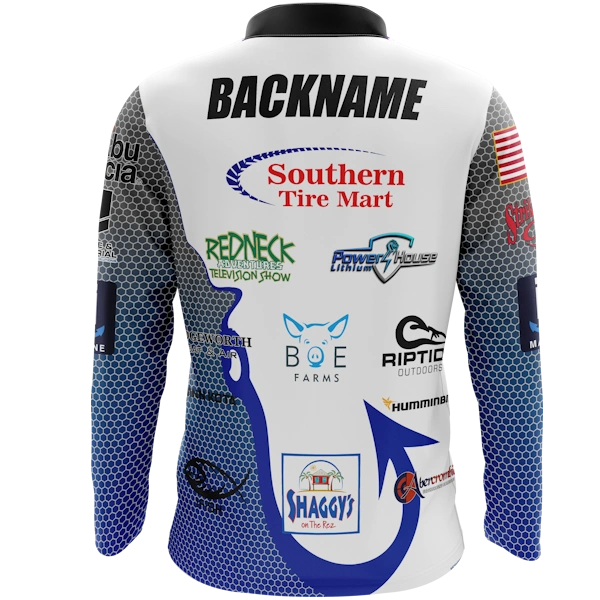 Logos & Logo Positions
NOTE: This is the Official Jersey for 2023 season. To keep your team qualified for any bonus monies awarded from wearing the jersey, it must be in this format. Here are the available changes and locations to alter the jersey and still be qualified to win bonus monies. See the Bass Tactix website for bonus jersey payouts and qualifications.
On the front of the jersey: #1.You can change the Bass Cat Logo to another boat company to your liking. #2. Mercury can NOT be changed. #3. You can add a logo below the Duckett Fishing logo. #4. You can add a logo under the Gator Guard logo. #5. You can add a logo under the Residence logo. On the Sleeves: You can add 2 logos to each sleeve.
On the Back of the Jersey: #1. You can add a logo between the Boe Farms logo and the Shaggy's logo #2. You can add a logo under the I-Fish logo #3. You can add a under the Abercrombie logo on bottom right.
After you submit your order, you will receive a confirmation email with more information and instructions for sending in your logos.