Pricing
Includes Team logo on front, name on back, and up to 4 sponsor logos. (Each additioal logo placement over 4 is +$5)

$20 Advance Payment

is required to start the design process. After you approve your proof you will be invoiced only for the balance. The Advance Payment is for settng up your design and proof and is

Not Refundable

.
Men's & Women's Sizes S-XL

$54

Men's & Women's Size 2XL add $5, Size 3XL add $10, Size 4XL add $15
Youth Sizes $39
Features
No minimums - you can order one Jersey
No additional Art Charges when using our sample bckgrounds backgrounds
Choose Stand Up w/Zip, Crew, or Polo collar - no extra charge
Moisture management performance fabric
Available in Men's, Women's, and Youth Sizes
Please read our Order Guidelines before filling out the form. The guidelines explain the ordering process in detail and can speed up your turnaround time.
Collar Choices

Backgrounds
Choose from one of our Sample Backgrounds and enter the SB# in the BACKGOUND box on the order form. (Link to sample backgrounds is in the footer of this page) You can change colors on most, just enter your colors in box, also.
Team Roster
We will need your list of names & sizes. If there only a few names you can list them in the Customer Message Box. Or, you can download a roster excel spreadsheet to fill out and email back to us at logos@e3sport.com.
Logo Position Chart
This chart is a guide for placing your sponsor logos. For larger logos, you can combine positions - For example, L1+L2 +L3 for a verticle logo on sleeve, or F7+F10 for a big logo on the front.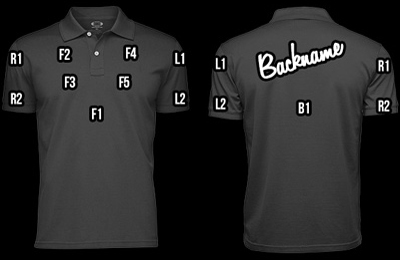 Entering your logos and logo positions in the order form is optional. If you prefer, you can download a fillable pdf to list your logos and send to us by email.
After you submit your order, you will receive a confirmation email with more information and instructions for sending in your logos.
If you have any questions or need help placing your order please Contact Us